The conference will be held in Faculdade de Economia, Administração e Contabilidade da Universidade de São Paulo ("University of São Paulo, Faculty of Economics, Administration and Accounting").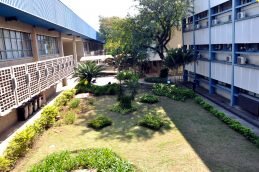 Address: Av. Prof. Luciano Gualberto, 908, Butantã São Paulo, 05508-010, Brazil – see Map
São Paulo, also known as Sampa, is the largest city in Brazil, with a city population of about 12 million and almost 22 million in its metropolitan region. It is the capital of the Southeastern state of São Paulo, and also a beehive of activity that offers a jovial nightlife and an intense cultural experience. São Paulo is one of the richest cities in the southern hemisphere, though inequality between the classes typically observed in Brazil is blatant. Historically attractive to immigrants as well as (somewhat later) Brazilians from other states, it's one of the most diverse cities in the world.
The city was founded in 1554 by Jesuit priests, and you can still visit the site of that founding at the ornate Pátio do Colégio church. Today, São Paulo is the economic powerhouse of Brazil. It is a place of fabulously ornate neo-Gothic and colonial architecture, including the spectacular Theatro Municipal, where you can also see orchestra or ballet performances. At the Pinacoteca do Estado de São Paulo (Art Gallery of the State of Sao Paulo), you can enjoy Brazilian art in a museum founded in 1905.
The most historical buildings are concentrated downtown, where 17th-century churches stand in the shadows of skyscrapers. The best of São Paulo's gastronomy, nightlife, and museums are located in the historic downtown and neighboring areas to the west. Consequently, this is where most visitors to the city tend to stay. Those who are adventurous enough to venture beyond these areas may discover a completely different São Paulo, including areas of preserved natural beauty.
In the south central part of São Paulo you will find the Parque do Ibirapuera (Ibirapuera Park). Elected as one of the best urban parks on the planet by the UK daily newspaper The Guardian, it is an island of green and tranquility in the middle of this big city. In addition to the thirteen playgrounds, lakes, picnic spaces and bike lanes, the park contains within its boundaries the OCA museum, the Museum of Modern Art, the Museum of Contemporary Art, and the Afro-Brazilian Museum. Ibirapuera Park was laid out by landscape architect Roberto Burle Marx, with buildings designed by Oscar Niemeyer. The immense green space with its monuments, museums, playgrounds, gardens, trails, lakes, and performance spaces is a leisure paradise for the people of São Paulo, as well as a showcase of modern architecture and culture.
| | |
| --- | --- |
| | |
Also in the south side of the city lies the Parque Estadual Serra do Mar (part of the Atlantic Forest South-East Reserves, a UNESCO World Heritage Site), a mountain range covered by exuberant rainforest that faces the coast and provides various ecotourism options. It has about 332,000 hectares, ranging from the border of Sao Paulo with Rio de Janeiro to Itariri, in the southern state of São Paulo, covering the entire mountainous region and surrounding Serra do Mar within the state, containing the largest continuous area of ​​preserved Atlantic Forest of Brazil.
And, finally, there is a rich and diverse cuisine to explore and enjoy. The city has some of the best restaurants in Latin America and the world, its more than 15,000 restaurants and 20,000 bars.
São Paulo is an avant-garde and innovative city that preserves in architecture, arts and gastronomy a past composed by the union of more than 70 nationalities. And while preserving traditions, it is not surpassed. Getting to know her better requires only two things: open-mindedness and a willingness to dive headlong into a city that never sleeps
How to Get to FEA
Faculdade de Economia, Administração e Contabilidade da Universidade de São Paulo ("University of São Paulo, Faculty of Economics, Administration and Accounting"):
By Public transportation:
Subway/Metro – Nearest subway station: Butantã Station – Line 4 – Yellow.
When disembarking at Butantã Station, take the bus Line 8012-10 City University / Butantã Subway (Circular 1 – free bus that operates only in the campus) at the station bus terminal.
There is a bus stop at Av. Prof. Luciano Gualberto, 908, in front of the FEA (Faculty of Economics and Administration)
Train: Nearest Train Station: University City – Line 9 – Emerald.
Exit at the University City station. Cross the bridge and enter the pedestrian entrance. Go to the nearest point on the left and take bus – Line 8022-10 University City / Butantã Subway (Circular 2 – free bus that operates only in the campus). Exit in Av. Prof. Luciano Gualberto, near the Faculty of Architecture and Urbanism (FAU) and cross the street until you reach FEA.
Buses:
Bus lines that enter USP and stop in front of FEA-USP:
-177H-10 Butantã USP / Metro Santana
-7411-10 University City / Sé Square
-7181-10 University City / Terminal Princess Isabel
-8012-10 University City / Butantã Subway (CIRCULAR 1)
-8022-10 University City / Butantã Subway
By Car:
From Marginal Tietê, follow the direction Castelo Branco until you reach Marginal Pinheiros. At the local lane, passing the Jaguaré Bridge, take Avenida Escola Politécnica (first right after the bridge). Take the first left turn and turn right on Av. Melo Morais. Turn second right onto Av. Professor Lucio Rodrigues Martins. Turn right again at Av. Luciano Gualberto.
From Marginal Pinheiros, you should go towards Castelo Branco and take the University City Bridge. Following Alvarenga Street, turn right at the intersection with Av. Afrânio Peixoto. Enter the main campus entrance (P1). Go straight on Av. da Universidade to the second square (Praça Prof. Rubião Meira), go around it and take Av. Lineu Prestes and, on the right you will reach, Av. Luciano Gualberto.
Aprender a pronunciar
How to Get to São Paulo:
From the Airport:
São Paulo has airports. One located within the city of São Paulo for domestic flights (Congonhas Airport – CGH) and another located in a nearby municipality (Guarulhos Airport).
Guarulhos – Guarulhos International Airport, also called "Cumbica Airport", name of the neighborhood in which it is located, is in the metropolitan area of ​​São Paulo, 25 km from downtown. It is the second largest airport in the southern hemisphere and concentrates flights of more than 20 airlines to destinations worldwide, with about 16 million passengers annually. It has its own road access through the Hélio Smidt Highway, which is connected to the Presidente Dutra and Ayrton Senna highways.
When arriving to the Guarulhos airport you may take the bus, taxi or train to the city center. Please check all the options at https://www.gru.com.br/en/passenger/to-from-gru-airport/bus
Useful links to prepare your travel:
Metro/Subway – http://www.metro.sp.gov.br/en/your-trip/index.aspx
Public Transportation – http://www.sptrans.com.br/ (no English version)
Buses – https://www.clickbus.com.br/onibus/sao-paulo-sp (no English version)
Sources:
https://www.kayak.com/Sao-Paulo.10988.guide
https://www.planetware.com/tourist-attractions-/sao-paulo-city-bra-sp-s.htm
https://theculturetrip.com/south-america/brazil/articles/20-must-visit-attractions-in-sao-paulo
https://pt.wikipedia.org/wiki/Ficheiro:Vista-da-Serra-do-Mar-Ubatuba-170717.jpg
https://wikitravel.org/en/S%C3%A3o_Paulo
https://visitesaopaulo.com